The 2020 Jeep Gladiator: The standard bearer for a new era of Jeep Brand capability
Every automaker has its own specialty. For the Jeep Brand, its specialty is crafting some of the most ruggedly capable SUVs on and off the road. However, while SUVs may be the Jeep Brand's forte, many fans have been clamoring for years for a Jeep Brand truck. And it seems that dream is finally a reality with the upcoming 2020 Jeep Gladiator.
Rediscover a love of adventure with the 2020 Jeep Gladiator at your side
Whether it's tackling rough trails or towing trailers, the 2020 Jeep Gladiator is the quintessential off-road pickup truck. Designed with heritage Jeep brand styling elements in mind, the 2020 Jeep Gladiator is reminiscent of the Jeep Wrangler at a glance, albeit with an expansive pickup truck bed on its back end.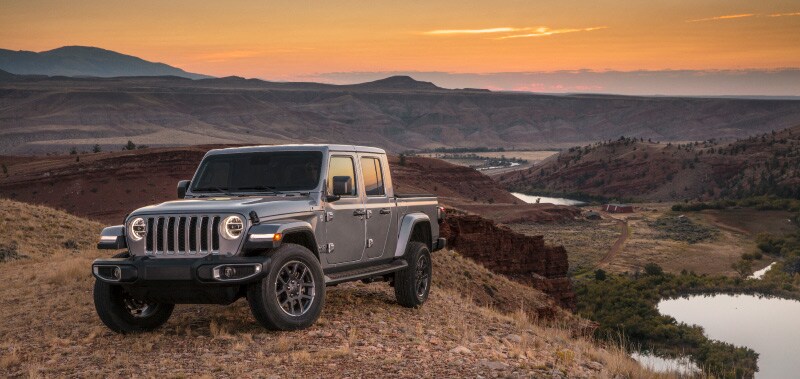 However, with that pickup truck bed comes pickup truck capability. Able to tow up to 7,650 pounds with a 1,600 pound payload rating, the 2020 Jeep Gladiator is great for hauling everything you might need for outdoor adventures. Whether you're bringing your boat to the lake or taking an off-road adventure with your ATV, the 2020 Jeep Gladiator will get you and your gear there and back again with no trouble.
Interested in learning more about the 2020 Jeep Gladiator? Visit our showroom in Torrington, CT to speak with our Jeep Brand experts today!
Of course, this is just a taste of all that the 2020 Jeep Gladiator has to offer. So, if you'd like to learn more about this exciting Jeep Brand pickup truck, the best way to do so is to stop by Sullivan's Northwest Hills Chrysler Jeep Dodge Ram to have a chat with our knowledgeable Jeep Brand experts. We're confident that a quick conversation with our team will ensure you're just as excited about the 2020 Jeep Gladiator as we are.